CryptoNinja, the NFT collection produced by Ikehaya, is releasing a casual mini-game platform called CryptoNinja Party!
CryptoNinja is one of the most famous NFT collections in Japan.
The "CryptoNinja Party!" derived from it is also currently attracting a great deal of attention!
Ludus presents the following information about CryptoNinja Party!
What is CryptoNinja Party!
How CryptoNinja Party!
How to play CryptoNinja Party!
Can I earn virtual currency with CryptoNinja Party!
What is the future of CryptoNinja Party!
About CryptoNinja Party!
We are proud to announce that expectations are growing, both domestically and internationally, for CryptoNinja Party!
YATARO
The No. 1 NFT game in the spotlight and all!
What is CryptoNinja Party!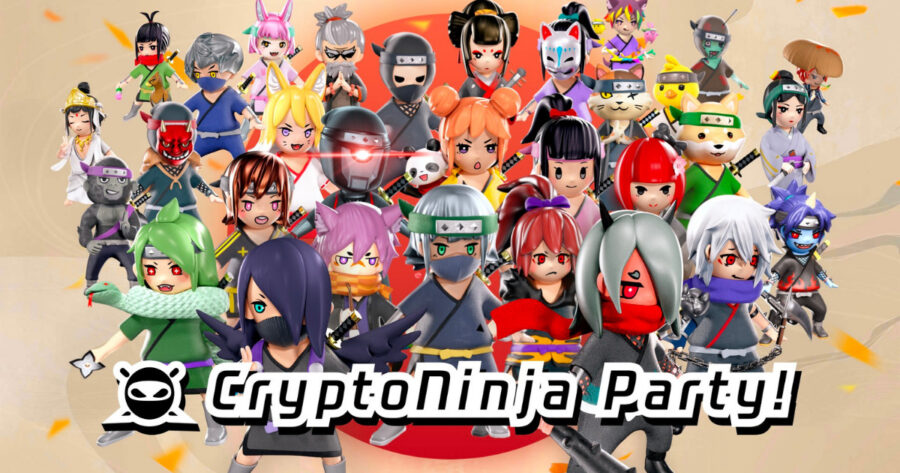 CryptoNinja Party! is an NFT game derived from CryptoNinja, one of the largest and most popular games in Japan.
YATARO
First, let's get to know CryptoNinja!
How CryptoNinja Party!
"CryptoNinja NFT" is an NFT collection founded by Hayato Ikeda (a.k.a. Ikehaya) and Rii.
The designs are based on ninja motifs and are highly popular both domestically and internationally.
As of May 2022, the total NFT transaction volume was 187 ETH (equivalent to 70 million yen), one of the highest in Japan!
In the past, Mendy Sekiguchi's purchase of CryptoNinja NFT made a big splash.
CryptoNinja Party! is a unique worldview
CryptoNinja Party! will use NFT tokens called "NinjaNFT" to develop a completely unique worldview.
The sealing of the Root Country has ended, and the ninja village is now a peaceful, conflict-free place.
Suddenly, the ninja from the four clans of Iga, Koga, Fuuma, and Zoga were gathered in one place under the guidance of the Heavenly Shinobi Sattva.

Each of the ninja could not hide their surprise. Sattva looked over the assembled ninja and said the following words: "Iga, Kouga, Kazemage, and Zouga are the four clans of ninja.
The Iga, Kouga, Fuuma, and Zouga clans are all good in their own ways, but I would like to ask you to practice your ninja skills beyond the borders of your clans.

At that moment, a light began to shine near Sattva. It was the door to another world.

Nemu and Aun were the first to rush out, followed by Nekomata, Shiba, Uka, and Janome. The remaining An'onn, who had been left behind, jumped into the light with Shion's hand in tow.

The rest of the story is yours to create as you read this scroll.
CryptoNinja Party!

-Taken from CryptoNinja Party! Whitepaper

Translated with www.DeepL.com/Translator (free version)
How CryptoNinja Party!
There are many mechanisms for community fun at CryptoNinja Party!
This article introduces some of those mechanisms.
NinjaNFT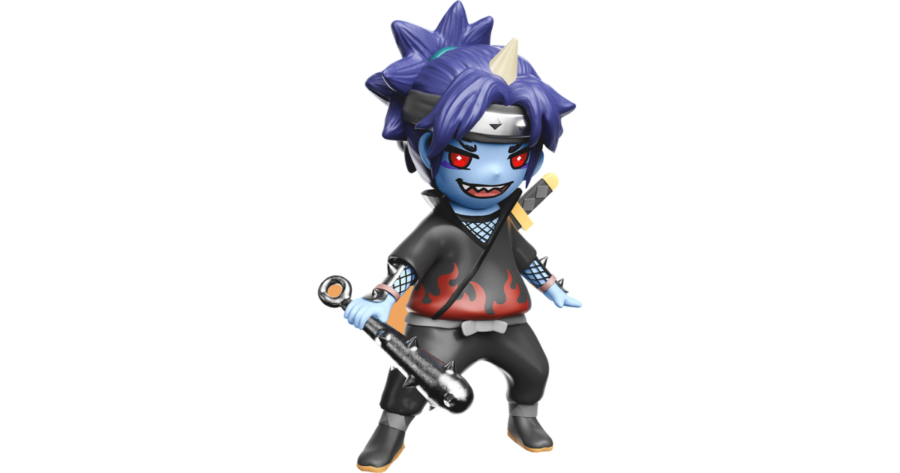 NinjaNFTs are the essential NFTs for playing CryptoNinja Party!
By locking a NinjaNFT into the game, you can play each mini-game!
A NinjaNFT consists of several parts, including character, clothes, and equipment, and each part has different status parameters.
You can create the strongest NinjaNFT by combining these parts, or design your own NinjaNFT to your liking, allowing you to customize it as you wish!
In addition, NinjaNFTs can be leveled up by spending in-game points.
Leveling up enhances their status, and the higher the level, the better the effect.
Some of these 3D versions of NinjaNFTs will only exist for 50 of them!
YATARO
I want the 3D version too bad!!!
Co-creation with the community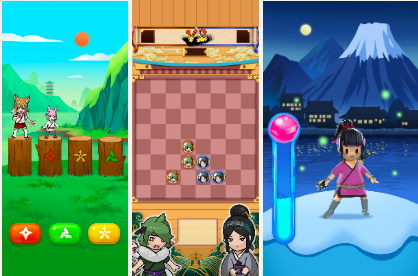 In the future, CryptoNinja Party! will include a "Create to Earn" feature that will allow players and creators to contribute content!
Game creators will be able to earn EXP and other in-game points as rewards based on the number of times their games are played.
The Create to Earn feature for games will allow creators to directly contribute to the value of CryptoNinja Party!
It's a great mechanism for people to help boost the game and the community by themselves!
Various tokens
CryptoNinja Party! employs the Palette blockchain and uses a variety of tokens in the game.Each token has a unique role.
YATARO
Let's get it right while we still can!
Token
use
PLT
Upgrade NinjaNFT
Buy and sell NinjaNFT
CNPT
Enhanced parameters through level up.
Replacement with PLT.
EXP (in-game currency)
Enhancement of NinjaNFT
NFT stamina recovery
Move Lock NFT
Acquisition of PLTs and CNPTs
How to play CryptoNinja Party!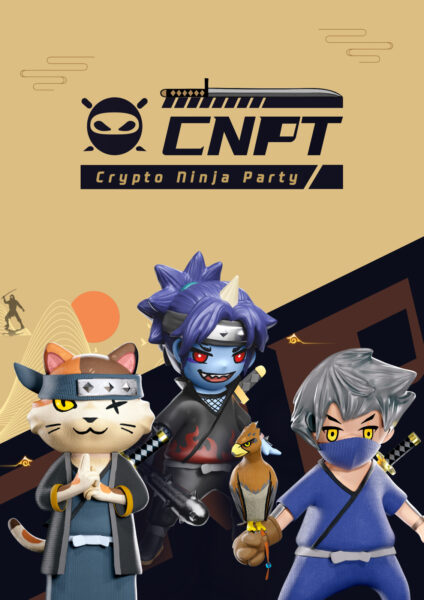 Let's take a look at how to play CryptoNinja Party!
You'll definitely want to try it out for yourself!
Lots of mini-games to play!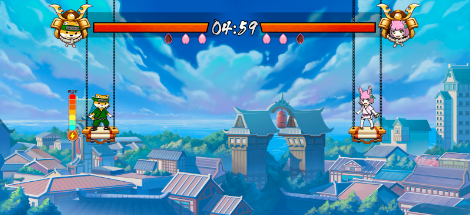 CryptoNinja Party! has many casual mini-games!
You can play single-player games, competitive games, cooperative games, and many other types of games.
When the future feature allows users to create their own games, there will be no limit to the number of ways to play!
The amount of EXP, the in-game currency, earned fluctuates depending on whether you win or lose the game, so you can also feel the thrill and excitement of the competition.
Aim for high scores in games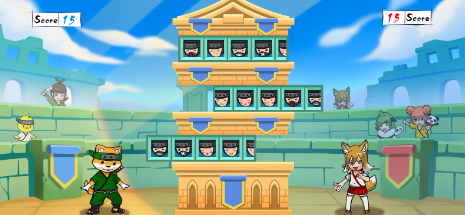 In single-player and cooperative games, aim to clear the game with a high score.
Scores are rated by a "star system" with three stars, and the quantity of EXP earned varies according to the rating.
| | | | |
| --- | --- | --- | --- |
| Star Rating | ★ | ★★ | ★★★ |
| EXP gain (example) | 100 | 200 | 300 |
Full lineup of events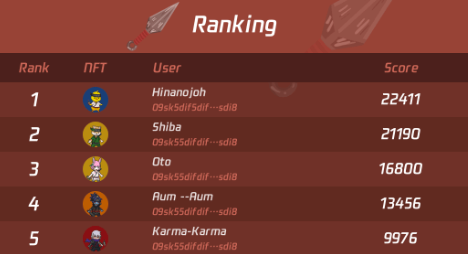 CryptoNinja Party! has plenty of events that users can play every day and never get bored!
Daily missions reward players with EXP and other rewards for completing daily missions.
In addition, top score ranking players will be rewarded for each season for a certain period of time.
Grow your NinjaNFT with EXP and aim for the top ranking!
How to earn virtual currency with CryptoNinja Party!
The best part about NFT games is that you can actually earn virtual currency just by playing the game.
Can you earn virtual currency in CryptoNinja Party!
As it turns out, you can earn virtual currency by playing CryptoNinja Party!
There are various ways to earn money.
Convert EXP to PLT for cash
Earn EXP as a reward for playing mini-games in CryptoNinja Party!
Paying this EXP into the reward system will give you PLT tokens that can be redeemed for cash!
Buy and sell NinjaNFT
You are free to buy and sell any NinjaNFT you acquire!
You can also promote your community by selling NinjaNFT you no longer need to someone else who needs it.
Produce games and get paid for it.
A "Create to Earn" feature that allows users to create games will be implemented in the future in CryptoNinja Party!
Creators will be able to earn EXP and tokens based on the number of times their games are played.
So there's more to creating games than just developing a community!
YATARO
The ways to make money are endless!
What is the future of CryptoNinja Party!
According to the management, the goal is to become a Web3 project that involves more users and is built together with the community.
In CryptoNinja Party! a Create to Earn ecosystem will evolve where users can not only play and consume the game, but also build the game together with the users and give back to the contributors.
Ultimately, you are planning for this to be an autonomous decentralized P2E blockchain game that will require no management!
YATARO
The love of community is essential for each and every one of us! Of course I'll contribute!
About the reputation of CryptoNinja Party!
CryptoNinja Party! is a project that has already attracted the attention of many users, both domestic and international.
What is the current evaluation of the project among the public?
※Translated text is used.
HashGames will be making a big announcement today about their upcoming blockchain game "CryptoNinjaParty!
CryptoNinja is a very fast-paced game, so things might start moving quickly from here.
I'm so excited I can't concentrate on work!😆

reference:Twitter
CryptoNinjaParty #CNPT, a P2E blockchain game from Japan.
Very much looking forward to it!😁

reference:Twitter
summary
CryptoNinja Party! is a game that you can enjoy to the fullest, whether you know CryptoNinja or not yet.
Collect NinjaNFTs, compete in game scores, or find your own way to play!
YATARO
Come up your game with me!